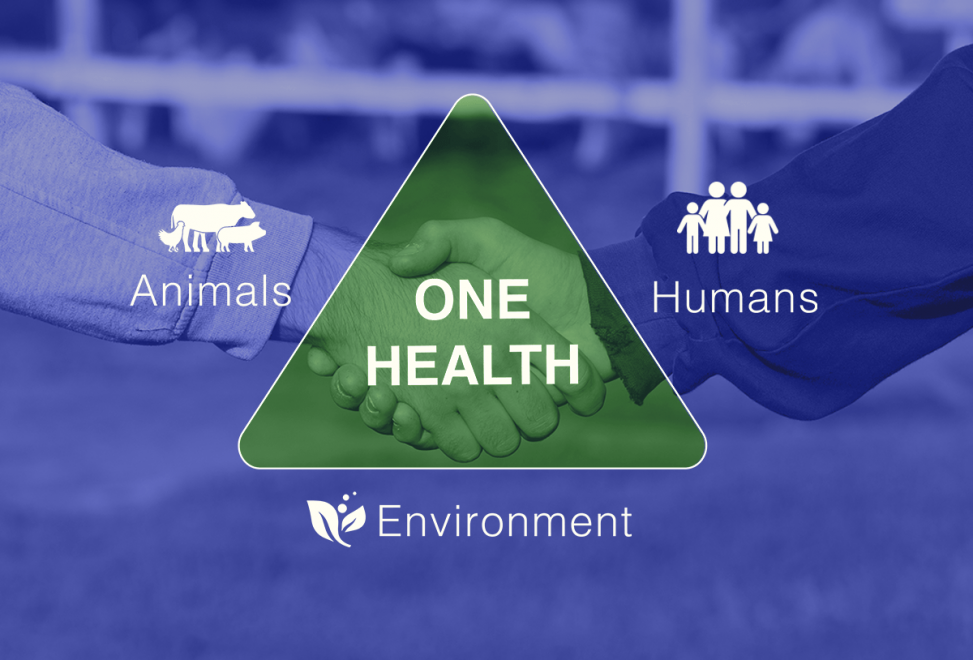 Experts increasingly recognize the interconnectivity between the health of people, animals and the planet. Protection of human health requires attention to animal and environmental health. Stated another way, protection of animal health contributes to the health of people and the planet.
An international effort known as the One Health Initiative acknowledges and explores the links between animal health, human health and our environment. This important work is helping increase understanding and improve outcomes on all three fronts.
The One Health approach is helping society monitor and share information about antibiotic resistance. Antibiotic resistance occurs when bacteria become resistant to the effects of a drug. This means that the drug, and possibly similar drugs, will no longer be effective against those bacteria. Resistant bacteria arising in humans, animals or occurring naturally in the environment may spread from one to another, and from one country to another, so the One Health approach is key to addressing the challenge. The One Health Initiative also promotes antibiotic stewardship, recognizing that the responsible use of antibiotics by doctors and patients, as well as by veterinarians and farmers, helps reduce the risk of antibiotic resistance.
Examining the responsible use of animal antibiotics through a One Health lens reveals how it helps to protect human health and conserve natural resources. Studies show that keeping animals healthy reduces the risk of bacteria entering the food supply. Safer food means healthier people. Responsible use can also reduce the environmental impact of animal agriculture. If farm animals become sick and die, more animals are needed, which requires more feed and that means more grain must be planted, fertilized and watered. Allowing farmers and veterinarians to prevent disease, or treat sick animals if necessary, contributes to food safety and helps conserve natural resources, which is good for people and our planet.
The One Health approach is relevant far beyond antibiotics, in virtually all aspects of animal care. For example, animal vaccines and nutritional products help to prevent disease and boost animal immune systems. These animal care products clearly benefit animals by helping to reduce suffering, but they also benefit people by contributing to a safe, healthy and affordable food supply. Additionally, fewer natural resources are consumed when herds/flocks remain healthy, contributing to the health of our planet. In fact, many animal nutritional products are made from all-natural and renewable sources, which also helps to protect the environment.
If properly implemented into future generations, One Health has the potential to help protect and save millions of lives. The goal is to encourage the collaborative efforts of multiple disciplines working locally, nationally and globally-to achieve the best health for people, animals and our environment.
Both the World Health Organization (global) and the Centers for Disease Control (CDC) (United States) use the One Health approach by working with physicians, veterinarians, ecologists and many others to monitor and control public health threats and to learn about how diseases spread globally among people, animals and the environment.
As the global population continues to increase, this interconnection becomes even more significant. Recognizing that some diseases spread between humans and animals or vice versa, the One Health approach is the right approach to keep families healthy and help feed a growing world while protecting animal health and the earth's natural resources.